If you are looking for a fully functional ERP software, IBS can provide the suitable ERP to you! Odoo
Odoo is suite of business apps that cover all your company needs: Accounting, CRM, eCommerce, HR, Inventory, Fleet etc.
IBS is committed to helping you to reach your company goals, fully customization and suitable to your organization including your target and policies.
We have a great team of employees who are highly efficient and experts at their job with an experience in development within different industries, backed up with academic background.
We have been successfully implemented a wide range of Odoo Modules and solutions to meet the business needs.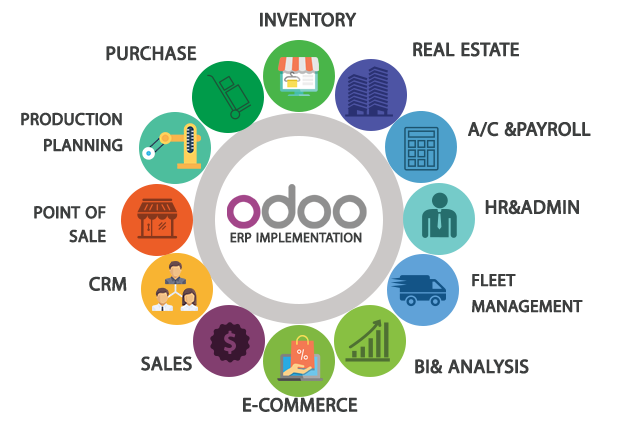 Our Projects:
Human Resource Management:
Comprehensive HR management system that covers master information of employees, vacations, insurance, licenses, RPs and others including integration with biometric device automation and self-employee services.
---
Universal Ready-Mix Concrete:
An integrated system with Command Alkon starting from Sales part, delivering material to customer ending with collecting money and invoices.
---
Asset Management System:
Simple app that manage the assets owned by an organization. It helps to capture, organize and analyze Asset related information without much complications including auto barcode generation.
---
Fleet Management:
Manage your Vehicles, Rentals, Costs, Insurances, Work Orders, Services, Assignments, Invoices and History of Vehicles.
---
Construction Project Report:
This app allows you to manage any type of Projects with ultimate functions for daily report from engineers and manpower's, equipment used or transfer in site with unlimited activities for attaching pictures on sites with different type of reports also help the accountants to find the whole cost for each project.
---
IT Support Center:
This app will allow to manage IT ticketing issues through one place, the client can raise ticket to our staff, staff can pass it to different stages/ teams. Task scheduled is available as well for preventive maintenance activities and it can be based on company assets.